Ascenso Releases Multi-Purpose MDR 1000 Tire Made For Tractors, Sprayers, Backhoes, and Telehandlers
ASCENSO proudly presents the groundbreaking MDR 1000 tire, a true marvel crafted for multi-purpose applications, including Agriculture, Construction, and Municipal Heavy-duty tasks. This tire is the epitome of excellence, boasting a unique tread design that not only guarantees exceptional road adherence but also thrives in winter conditions, effortlessly combating challenges with its outstanding self-cleaning properties.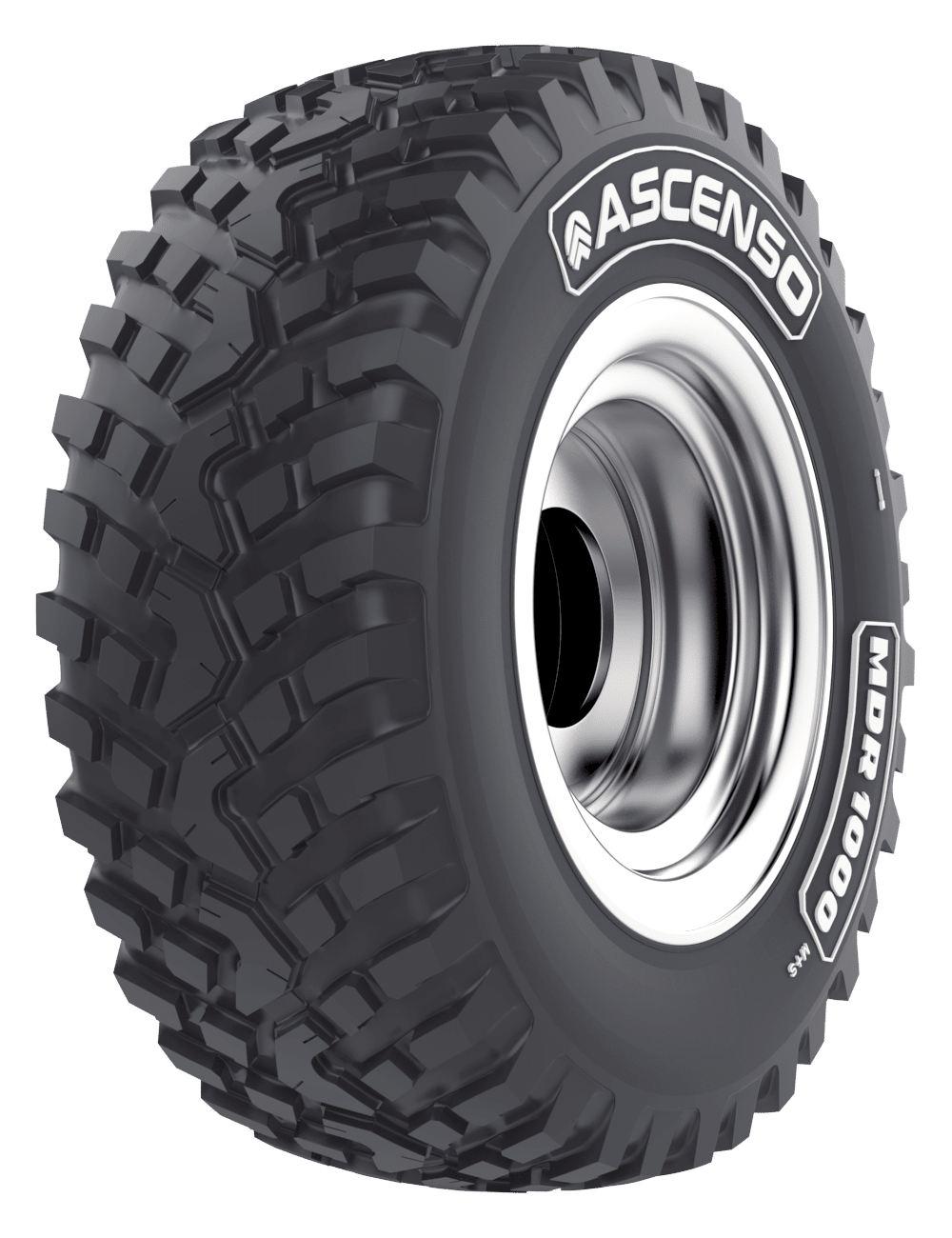 Unparalleled in its class, the MDR 1000 stands out as the ideal choice for transportation and maintenance applications, offering a remarkable reduction in tire noise even at high speeds on hard surfaces. Its unparalleled, low rolling resistance not only enhances fuel efficiency but also promotes eco-friendliness, making it a conscious choice for those who care about the environment.
Embodying innovation, the tire's multi-block tread design, expertly combined with a wider footprint, delivers superior grip both on and off-road, with exceptional performance even in the harshest conditions. The offset shoulder block design further ensures stability and comfort, providing a smooth driving experience both on and off the beaten path.
Crafted with precision, the MDR 1000 utilizes a specially formulated rubber compound that translates to a longer tread life, effectively reducing downtime and maximizing productivity. Industries seeking durability and efficiency will find this tire to be an invaluable asset to their operations. A true testament to its engineering excellence, the tire features a unique center lug, granting unparalleled stability and an undeniably comfortable ride on hard surfaces, while displaying extraordinary adaptability in soft conditions, mud, and snow, making it a reliable companion in any situation.
To fortify its resilience, the MDR 1000 incorporates an Extra Strong Casing, reinforced with steel belts that impart exceptional puncture resistance, ensuring peace of mind in demanding terrains. The tire's even footprint distribution guarantees uniform load dispersion, while its impenetrable defense against stubble bolsters its durability, making it a stalwart companion on challenging journeys.
In summary, the ASCENSO MDR 1000 tire sets an unparalleled standard in performance, versatility, and longevity. Its cutting-edge design and features make it the ultimate choice for various applications, promising a safe, efficient, and comfortable driving experience in all conditions. Prepare to embark on a journey of excellence with the MDR 1000—where innovation meets resilience, and performance knows no bounds.
Phase 1 Sizes range from:
250/75R16, 340/80R18, 360/80R20, 360/80R24, 400/80R24, 440/80R24, 400/80R28, 440/80R28,  480/65R28, 540/65R28, 440/80R30, 480/80R30, 540/65R30, 600/70R30,  440/80R34, 480/80R34, 480/80R38,  540/80R38, 600/65R38, 650/65R38, 650/85R38,  650/65R42, 710/70R42
About Ascenso Tires North America:
Ascenso is an off-highway tire brand that caters to the needs of the following key global segments: Agriculture, Industrial & Construction, Earth Mover, Material Handling, and Agro-Forestry. In our journey over the last 3 years, we have released and added more than 500+ sizes to our portfolio. Ascenso Tires North America also distributes Westlake commercial truck, bus, and trailer tires as well as Sunrise steel truck, aluminum truck, and trailer wheels along with their own brand "TIBER."
About Mahansaria Tyres Private Limited (MTPL):
Mahansaria Tyres Private Limited is a leading Indian manufacturer of Agriculture, construction, and off-road tires under the brand ASCENSO. It is the third such venture by the renowned Mahansaria Family. In their journey of more than three decades, they have built two leading off-highway tire brands with global footprints.